Meet Drippy!
Drippy the Oil Drop
Please allow us to introduce to you our Recycling Division Mascot, Drippy the Oil Drop. At first glance he always gets a chuckle or at least a smile. Once you realize the important job Drippy has you will find yourself taking Drippy very seriously. Drippy works hard day and night appearing on billboards, trucks, newsprint, our public used oil drop sites and of course our web site with his urgent message to "do the right thing", always recycle your used oil and filters properly!" It is simple to understand and vitally important to follow his message. Please, even in the smallest quantities, never use your used oil as a weed and dust control agent like many have done in the past.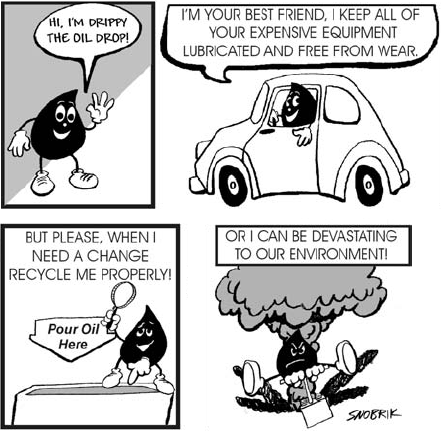 East Side Oil Companies Used Oil Recycling Division is the only organization that has realized there is a huge environmental problem called; Public used oil recycling. After you change your own oil and filter what do you do with that dirty used oil and used filter? Did you know that MPCA estimates that 600,000. to 2,000,000. gallons of used oil is illegally dumped into our environment each year in Minnesota by primarily the do it yourselfers, simply because they lack the proper place to "do the right thing" East Side Oil companies has done something about it!
Drippy's Car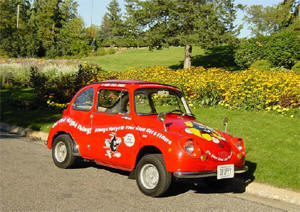 1969 Subaru model 360 indicating a 360cc twin cylinder, two cycle motor developing approximately 26-horse power. With a 920 pound shipping weight and a top speed of about 50 mph.